Beginning:
Back in 2008, Edwin Amaya was inspired to brighten the future of Colombian children who live in unimaginable and deplorable conditions. Motivated by his own personal story, he wanted to bring educational opportunities to underprivileged children.
The idea of providing educational opportunities to others sooner reached a group of young professionals who were interested in Edwin's vision and history. Consequently, a board was established and SCF was born as a 501(c)3-non profit organization in Oklahoma, USA in 2009.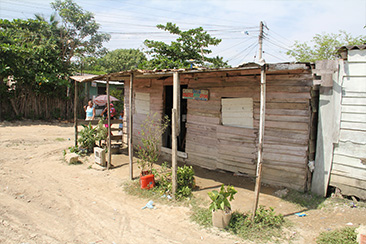 Inspiration
Edwin's vision of providing educational opportunities to others was inspired by his own family's story. His grandmother, a single parent of 8, raised Edwin's mother, Martha, while living in extreme poverty. As a child, Martha never had the opportunity to graduate from high school and lacked many basic necessities. Many years later, her middle child Edwin had the priceless opportunity attend college in the United States. As soon as he graduated, he established an educational scholarship for students at the University of Oklahoma. Later on, partially inspired by a French citizen who gave gifts to Colombian children, he turned his attention to children living in poverty in his home country of Colombia.
These children, much like his mother, lacked essential education and social opportunities. Edwin took action and raised funds among his friends and co-workers late in 2008. With these funds he provided backpacks, smiles, and hope to 175 children in his home town. Because of the success of this project, Smile Colombia Foundation was officially established with the focus of making children smile through improved access to education and social development.
Global approach
SCF grew faster than expected thanks to the passion and dedication of our board and the support of all the hard working volunteers.
After listening to suggestions from our volunteers and our drive to help the world without restrictions and limits, SCF was committed to go global. This meant changing to a more comprehensive mission to have a worldwide reach. After hours of deliberation and work, SCF finally had a new face and name. SCF became Smile Education Foundation, with the vision of having a more sustainable approach to brighten the future of generations to come. This new approach aims for an inclusive human development that starts empowering the life of young individuals through education and leadership opportunities.